One spring afternoon in 1981, a group of Garland city planners came out to visit what was then a deserted stretch of overgrown farmland in north Garland. The had an eye toward spurring development in this little-used part of the city.
They saw fields covered with bright pink and yellow wildflowers. These native firewheels gave their name to what would develop into the largest complex of golf courses in Texas and the third-biggest in the United States.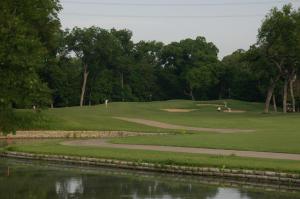 The Old Course opened in 1983, and proved so successful that the city built the lakes course in 1987. Meanwhile, as home and highway construction proved, this corner of the city was an ideal place for development.
Over the next few years, both the Lakes Course and the Old Course proved to be so popular with residences and visitors, that the city built up a healthy surplus. Once again, a decision was made to invest. The result was The Bridges — 27 holes, built with bentgrass greens and once again an attractive stone clubhouse featuring a The Branding Iron Restaurant.
The addition of the Bridges Course helped position Firewheel among the most acclaimed public facilities in the State of Texas. The courses at Firewheel have brought many elite golfers to Garland time and time again. The Old Course and the Bridges Course have hosted prestigious tournaments such as the PGA Tour Qualifying. The United States Open qualifier, the United States Amateur qualifier and the Byron Nelson Qualifier. The Bridges, Old and Lakes Course at Firewheel have received top rankings in Avid Golfer magazine. 
The Firewheel Golf Complex has been a catalyst in north Garland helping to attract housing, the Firewheel Town Center, Restaurants, and many pother businesses. Firewheel is a vital recreational hub for the community, as well as a friendly destination where visitors can enjoy a relaxing day on the golf course.